I have been gone, gone, gone...but now I'm back! Woohoo! My kids are all back in school so now I have time to be immersed in here again. And I'm back just in time to join this new little meme...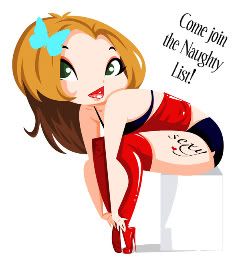 This is hosted by
MissC @ Life As I See It
...and co-hosted by
The Lunatic Cafe
,
Babies Boobies & A Blog
, and
Naughty Mommy Reviews & Junk
. Here is a description of the meme:
This meme is
THE NAUGHTY LIST!
I want each of you to write 3 things that you have done that made you feel naughty! It can be from years ago or minutes ago!
DESERT ROSE'S NAUGHTY LIST...


1. I spent a lot of my youth running around nude. At the lake, through the streets, out in the AZ desert. I may have meant to be a nudist...having kids has changed that ;)

2. I used to work as an emergency dispatcher. One time my co-worker and I took a ride in the back of our officer friend's police vehicle for a small joy ride around the downtown buildings in phx. We were hollering out of the windows that the officer was taking us to jail just cause we were making out in the park. Gave the homeless people that were out and about a good laugh.

3. If my hubby is talking about something that I may not particularly care about I flash him so he will possibly lose track of what he is talking about and move on.


Anywho, I'm glad to be back and can't wait to see what I've been missing out on.